Calling all 7th-12th graders!
Come join us on Wednesday nights from 6:30 to 8:30 and experience an engaging service with upbeat music, fun games and Biblical teaching designed to help you connect with God and each other. Our goal is to create a space where students can prioritize their relationships with Jesus, influence their friends and experience a personal ministry designed just for their age group. Our messages are geared towards the needs of today's teens as we commit to present the Gospel in a fun, creative and relevant way.
Elevate also organizes several additional events throughout the year for students to hangout with their friends, create new friendships and deepen their walk with Christ. From retreats, to music festivals, to pool parties, to snowtubing, we have something for every student! Come join us and bring your friends!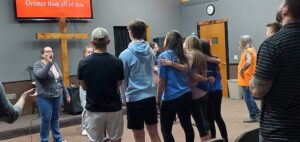 WORSHIP TIME