To suport and enrich healthy,
healing, and hurting mariages.
Our next Marriage Retreat will be held in 2023
Bongiorno Conference Center in Carlisle, PA
Every married couple could use some time away!
All marriages–newlywed or celebrating decades–on rocky ground or rock solid–
will be encouraged during this weekend retreat. We invite you to join us in learning
how to become teammates with your best friend.
You'll love this fun-filled, spiritually fulfilling weekend and the opportunity to grow
closer
as a couple. Sessions are held Friday night, Saturday morning & evening, and
Sunday morning. There will be plenty of free time and some optional group
activities such as a campfire and game time! You won't want to miss this.
To sign up or for more information, please see our Get-Connected table.
We hope to see you there!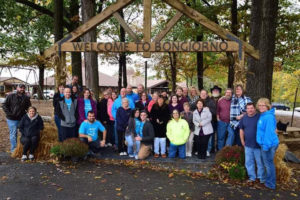 Ecclesiastes 4:12 "And if one can overpower him who is alone, two can resist him. A cord of three strands is not quickly torn apart."
The mission of BMCC Couples Ministry is to support and enrich healthy, healing and hurting marriages and our vision is to be an example to our generation of what a marriage that stands strong in Jesus Christ looks like.
We invite all couples from the church and community to join us for our annual fall weekend retreat, periodic date nights and outings. We offer prayer, encouragement and mentoring for couples who are struggling and in need of support.